Millisecond Publishing Company, Inc.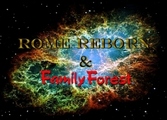 Dec 30, 2009 09:59 ET
ROME and KAMUELA, HI–(Marketwire – December 30, 2009) – Past Perfect Productions, srl, the Rome-based company representing "Rome Reborn," and Millisecond Publishing Company, Inc. headquartered in Kamuela, Hawaii, and home of the "Family Forest® Project" today announce joining forces to form an alliance for licensing core elements for the next generation of AAA console-based 3D games.
Today the owners of the licensing rights to two immense, academically precise digitization projects, each requiring over a decade of research and development, have united in a Joint Marketing Alliance. Their goal is to provide the means for a visionary game publisher to take a giant, cost-effective leap forward in creating the next generation of 3D console games. The theme of the games to be developed with the combined digital content is "participatory time travel" with ancient Rome as the ultimate destination with celebrity avatars serving as ancestral tour guides to the past.
"We recognized immediately upon learning of Rome Reborn last year, when its licensing agreement with Google Earth was announced, how ancient Rome in their detailed 2.0 version would provide a wonderful 'end-game destination' for a breakthrough, 'time travel' 3D game utilizing digitized ancestral pathways mapped out from the Family Forest® Project. It makes a perfect fit because 'all paths lead to Rome' — and that includes ancestral pathways," according to Bruce H. Harrison, co-founder and CEO of Millisecond Publishing Company, Inc.
Ancestral Marketing Partners, under the direction of Tom Nocera, has been tapped to market the digital rights of alliance partners to game publishers and game developers. Nocera stated, "The alliance offers all the unique digital content needed to bring the next generation of video games into the homes of a vast 'non-traditional' gamer audience — as well as appeal to traditional game consumers. Content this significant has to be showcased using video, and we were fortunate to find in New York the editor with a talent big enough to tell the story. Matthew Belinkie gets a 'tip of the hat' for what he has created for www.r2f2.com the alliance website."
Professor Bernard D. Frischer of the University of Virginia is credited with having the vision and leadership to guide the digitization of ancient Rome, precisely as it appeared in 320 A.D., the height of the Roman Empire under Constantine the Great. Frischer welcomed news of the alliance, stating, "The combination of our scientifically certified architectural model with the enormous Family Forest® genealogical database provides the basis for a compelling serious game that can entertain and educate people today about ancient Rome and its relevance to the contemporary world."
Joel Myers, CEO of Past Perfect Productions, stated, "The alliance is a powerful combination of digital assets, a classic example of how the whole adds up to much more than the sum of the parts. All that is missing now is a brilliant game designer to bring Rome and its citizens to life once again for people of all ages and backgrounds around the world."
Media Contacts:
Kristine Harrison
Millisecond Publishing Company, Inc. (Kamuela, Hawaii)
Kristine@familyforest.com
Ph. 808-883-8060
Bernard Frischer
Past Perfect Productions, (Rome, Italy)
Bernard.D.Frischer@gmail.com
Ph. 310-266-0183
Tom Nocera
Ancestral Marketing Partners (Clearwater, Florida)
TomNocera@yahoo.com
Ph. 727-710-0666
On the newswire at: http://www.marketwire.com/press-release/Millisecond-Publishing-Company-Inc-1096346.html